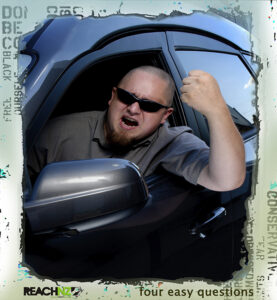 Question Three – Do Not Blaspheme His Name
What do you think this person is up to that violates one of the 10 Commandments?
Point out. This guy is experiencing a bit of road rage and is using God's name as a swear word or cuss word to express his disgust.
Have you ever done that? – Yes
Do you know what that's called? (They probably won't so you may have to help them)
State: This is called blaspheme… One of the commandments says we should not take God's name in vain… for the Lord your God will not leave him unpunished who takes His name in vain… (Deuteronomy 5:11)
Blasphemy is a very serious sin against the God who gave you life. He gave you eyes to see His creation, a tongue to taste the good food He created, ears to hear, and a heart to love the people He created, and everything that is dear to you. And you have lowered His holy name and used it as a filth word to express disgust.
The bible teaches that using God's name as a curse word is a very serious crime in God's eyes and is punishable by death. (1Kings 21: 10-13)
So if you have blasphemed God's name, what does that make you? – Wait for them to answer (help them if need be)… A Blasphemer.
NB: It can help if you agree with them that you have had the same problem. Once you get them to confess, go to the next page.