First The Bad News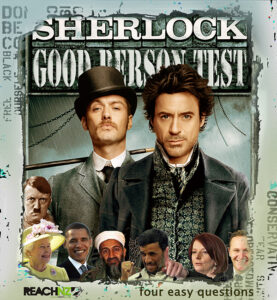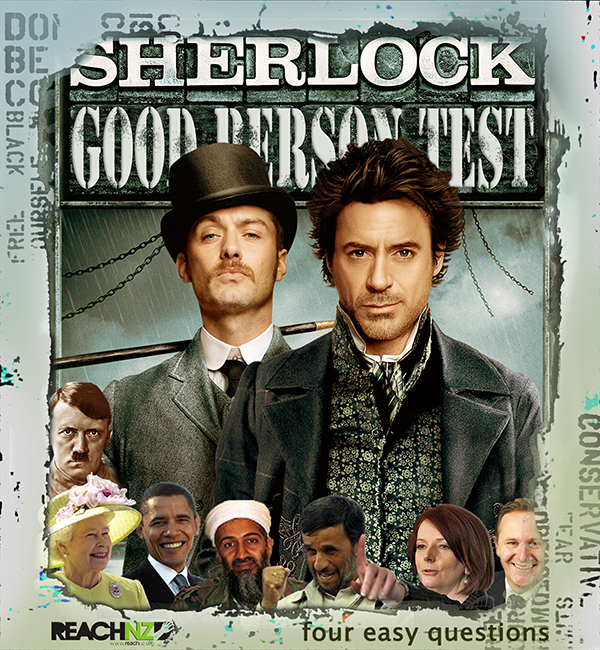 'The Good Person Test' – Cover Page
Introduction: This is your friendship evangelism page. This is where you build a relationship with the person by asking them questions about what they believe etc.
Q. (The Two right answers) If you died today (God forbid) and woke up in God's Courtroom, and Jesus said to you, 'Give Me two good reasons why I should let you into My perfect heaven.' What would you tell Him?
A. Let them give you their reasons, and tell them those are all great reasons, but unfortunately you would probably go down for those answers. I'll tell you the two right answers at the end of my presentation).
Q. Would you consider yourself to be a good person? (Wait for their answer. Remember there is no right and wrong answer, it's just their opinion).
A. Tell them: The Oxford Dictionary says a good person is 'someone that is morally excellent in thought, word and deed'. (That's what you think, what you say and what you do, in every situation').
Q. Based on this definition, are all these people good? (if you are not using a flipchart you can give them some examples)
You could use one or two of the following scenarios to explain their need for some sort of standard to measure their goodness, or make up your own…
Remember, we are only commenting on what many people believe to be true, to demonstrate that according to the Bible there is no such thing as a good person, not even one (Rom 3: 19-20). Nobody is good enough to get into heaven by their own goodness, not even Mother Teresa.
Understanding God's character will help. God is…
God is Holy (Lev 19:2) – 2. God is Love (1 John 4:16) – 3. God is forgiving (John 3:16) – 4. God is Merciful (Duet 4:31) – 5. God is Just (Duet 32:4)
If we leave any one of these characteristics out, then we create another god to suit ourselves, which is idolatry, and violates the 2nd commandment.
God is holy & His standard is so high we will all fail on judgement day. Everyone in this world is born a sinner and therefore sins and needs to repent before a Holy God and put their faith (trust) in what Jesus Christ did for us when He died & shed His blood on a cruel Roman cross in our place, to satisfy God's justice, thereby giving us eternal life.
The moment anyone does this God forgives them of their sin & grants them eternal life & they are born again. Not because of their own goodness but because of God's sacrifice on the cross for them & their faith in that alone to save them.
Reference to Flipchart Cover
What do you consider makes a person good?
Do you think all these people are good?
State: None of these people think they are bad. At least they think there are plenty of people worse than themselves. They saw themselves good in their own eyes because they measured what was good by their OWN standard of goodness.
If we all have our own standard of goodness, then we could all claim to be good. True?
None of these people have done anything bad because they thought they were an evil person.
Adolph Hitler considered himself a good person when he murdered over 6 million Jews, five million ethnic minorities and 30 million Russians. In his mind he was not an evil man, but a good man, doing the world a favour, because the Jews crucified Jesus Christ and should be eliminated. And millions of Germans agreed with his standard of goodness and voted him into power. He never broke one German law.
Saddam Husain considered himself to be a good person by killing 400 Kurd's a week on behalf of his people.
Osama Bin laden considers himself to be a good person by sending his followers out as suicide bombers, and killing everyone that doesn't convert to his religion, to please his god.
State: 'So how do we know if we really are a good person if we all have different standards that just make us look good in our own minds?'
Sample Questions
The following are some example questions you could ask to get them thinking.
How do you know if your standard is good enough to get you into Heaven? (If there was a Heaven)
How do you know if you really are a good person? Would you agree that if we want to know if something is right or wrong, we need some kind of standard to measure it? ( You need to get them to agree).
What standard can we use to measure how 'good' we really are? ( Wait for an answer)
Did you know that our moral laws are based on the 10 Commandments? Have you heard of them before? ( Wait for an answer).
Do you think they are a good standard? Can you name any of them?
State. Let's see if you can answer 4 easy questions based on the 10 Commandments to see if you are good enough to get into Heaven?
Turn quickly to the next page without giving them to much time to think about what you've just said. There is no particular order to take them through the commandments, and you don't need to ask them all. Three or four are more than enough.
Please follow and like us: