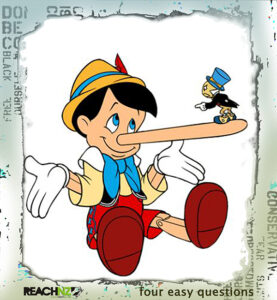 Question One. Do Not Lie
What are the two things you can see in this picture that violate one of the 10 commandments?
They should be able to see a face and the word Liar in handwriting.
Most get the face but most times you may have to point out the word 'Liar' – then ask…
Once they see them, you can say…
'Yes, he has liar written all over his face'. This keeps it lite.
One of the Commandments says we should not lie.
Have you ever told a lie? Even a white lie or exaggerated truth? – Wait for them to answer – Yes
What do you call someone that tells lies? – A Liar
So what does that make you? – Wait for them to answer – A Liar . If they struggle to confess that they are a liar, ask them… 'How many lies do you have to tell to be called a liar?' Wait for them to answer – One. Try to get them to see i t only takes one lie to be called a liar. Then ask them question 4 again.
NB: It can help if you agree with them that you have had the same problem. Once you get them to confess, go to the next page.