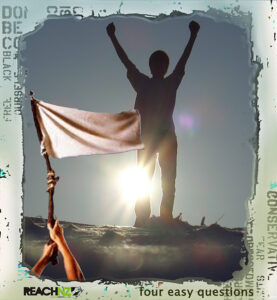 Conclusion
Closing gospel conversations this way leaves them completely trusting in the sovereignty of God for the person's salvation. It is not manipulative. It doesn't leave the person with a false sense of assurance. It keeps me from taking any credit whatsoever for any work the Lord accomplishes in the person's life. After all, we are merely one of the King's ambassadors. Only the King has the power and authority to forgive and to save. We have no such power.
Remember: God does not need our help to save anyone. Yes, He uses the preaching of the gospel to convert souls. But salvation is of the Lord. He doesn't need us to emotionally prepare or prod lost people. He doesn't need us to make the gospel more palatable. He doesn't need us to add prize packages (Your best life now; health, wealth, and prosperity; a purpose you'll get a kick out of; mended relationships; etc.) to the gift of eternal life. In fact, I believe these kinds of "gospel helps" are an offence to God.
Simply proclaim the gospel to the lost. Bring every single person with whom you speak to the foot of the cross. And trust, really trust, God to save them.
When you have completed your presentation,make sure they understand the gospel and the two things they must do in order to be born again.
Please follow and like us: